Created and funded by The Hong Kong Jockey Club Charities Trust, and co-created by The Education University of Hong Kong, Massachusetts Institute of Technology and City University of Hong Kong, CoolThink@JC organised its 5th annual Competition. It has attracted more than 200 teams across different primary schools, the highest participation number ever. Besides showcasing their clever computational thinking, programming prowess, problem-solving skills, and teamwork, students also impressed the judges by incorporating artificial intelligence in their designs.
Professor Stephen Cheung Yan-leung, President of The Education University of Hong Kong and chairman of the competition's grand final judging panel, applauded participants' efforts and quality of work, which exceeded his expectations. He noted that the number of teams participating in this year's competition was more than double that of last year, which shows that academia is attaching increasing importance to the education of computational thinking. "I'm particularly pleased to note that many entries were designed from the user's point of view," he added.
Intelligent door lock
King's College Old Boys' Association Primary School No.2's Intelligent team, the champion of the App Inventor category, showcased an intelligent door lock model built with Lego bricks, which incorporates a bidirectional camera that runs AI-facial recognition programming. The door lock offers double security, requiring users to unlock the door using facial recognition plus a voice-activated code. In case a fraudster trying to open the door with a preset false voice password would activate a device to notify the home owner.
"Face recognition and voice-activated door opening are safer and more convenient than keys, passwords or fingerprints, as users may be carrying many things home and fumbling to open the door," the team explained.
Apart from access, the home-facing camera is a welcome boost for families with kids or elderly people with Alzheimer's disease. Whenever they go out alone, the device will alert their families. The team obtained their inspiration for the design through reading news about Alzheimer patients going out alone and getting lost.
Gastrointestinal health monitor
Yuen Long Public Middle School Alumni Association Tang Ying Yip Primary School's TYY Elite team is the App Inventor category's First Runner-Up. Their entry aims to raise children's awareness of intestinal health. Their app, NEED, encourages children to record the shape of their excrement and use it to judge their gastrointestinal conditions and help choose appropriate foods that are helpful for intestinal health.
Their inspiration came from knowledge acquired in General Studies class that bacteria affects gastrointestinal health and will be reflected in the shape of feces. The team interviewed 100 schoolmates and found that only a few of them pay attention to this aspect of health and wellbeing.
"At first, teachers, classmates and family members felt a little embarrassed and disgusted when they learned of our chosen topic," the team said. "But we explained to them that our intention was basically to raise public attention on the foods they eat and their impact on health, so there is no need to be embarrassed talking about it."
The Hong Kong Jockey Club's Head of Charities (Trust-initiated Projects Management), Ms Irene Leung, noted that although the competition adopted a hybrid operation mode due to the pandemic, students' creativity was not at all limited. This is a testament to their strong adaptability and problem-solving ability. "The students' works showed a wealth of creativity, organization and execution skills as well as programming knowledge," she observed. "It reflects well on the progress of teaching and learning in computational thinking among local schools."
Scratch category
PLK Horizon East Primary School's Brain Fit team, the champion and The Best Functionality and Design Awardee in the Scratch category, designed a video game that helps training in maths and sports.
In response to the pandemic, the Marymount Primary School's "Social Distancing is Easy" team designed a wrist strap for maintaining personal hygiene and won the Second Runner-Up prize in the Scratch category.
App Inventor category
Ying Wa Primary School's STEAM team, the Second Runner-Up and The Best Functionality and Design Awardee in the App Inventor category, designed an app that helps with plastic sorting and recycling.
The MPS ACE team of Marymount Primary School is the App Inventor category's Merit winner, with an app that addresses the emotional health of the elderly.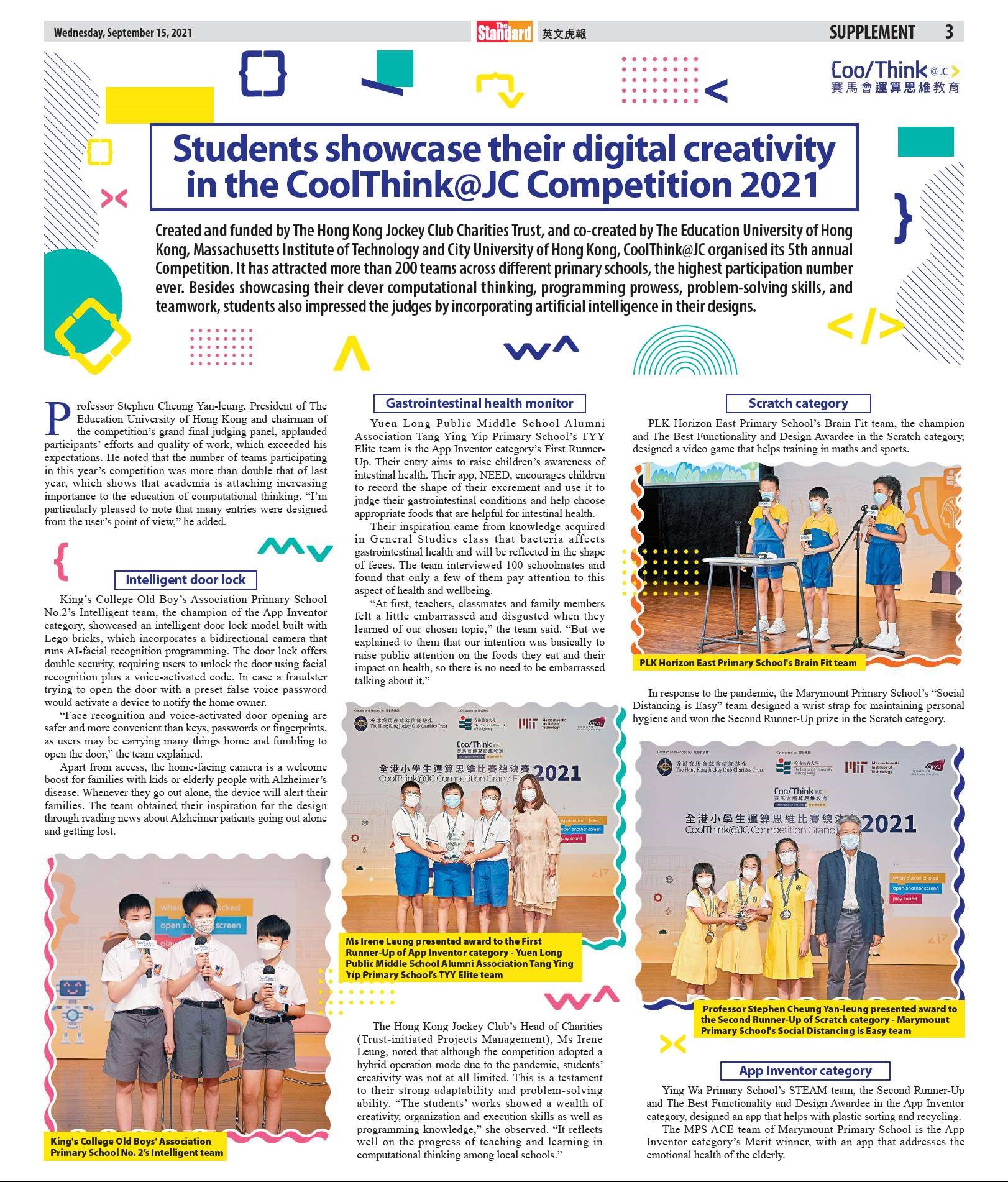 Read more online: https://www.thestandard.com.hk/section-news/fc/4/234230/Students-showcase-their-digital-creativity-in-the-CoolThink@JC-Competition-2021